Cultural Addition Boosts Company's Involvement in the Open Source Community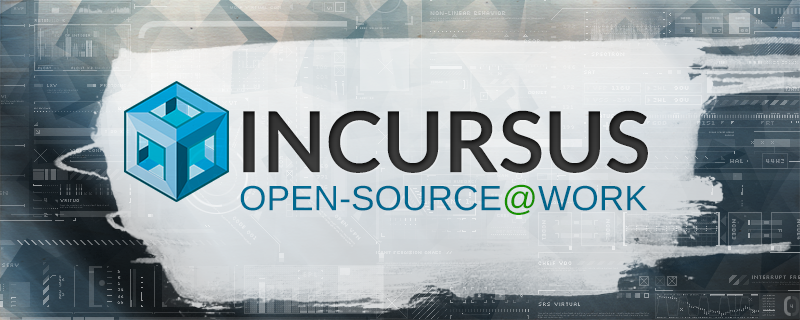 Atlanta, Georgia, July 12, 2016 - Incursus, Inc., an Atlanta-based boutique creative design and open source software studio, announced today the launch of a new internal initiative aimed at getting its employees more involved in the open source community. Called the "Open Source@Work" program, designers and technical employees are required to start and/or participate in at least one open-source development effort. "We implemented this program for several reasons.", said Scott Burkett, Founder and CEO of Incursus.
"First and foremost, we want to do our part to give back to the open source community which has been so good to all of us over the years. I don't want any of us to take it for granted. Second, you just never know where that next great idea will come from. As such, it's a terrific way to encourage grass-roots innovation across the company. Finally, and equally as important as the first two - it's simply fun! We have set aside one day a week in which our teammates can collaborate and work on their open source projects on company time, and I think that's an important element of our commitment level to this initiative."
"Open source software" is computer software with its source code made available with a license in which the copyright holder provides the rights to study, change, and distribute the software to anyone and for any purpose. The open source model, or collaborative development from multiple independent sources, generates an increasingly more diverse scope of design perspective than any one company is capable of developing and sustaining long term.
"Open-source software permanently changed the landscape not just for startup companies, but for the world." said Jeff Haynie, co-founder and CEO of Appcelerator, recently acquired by Axway. Appcelerator is the developer of Titanium, an open-source software development framework which lays claim to over 400 million mobile devices running their applications. "Open-source launched new industries, and has proven its value time and time again. Transparency and openness results in more stable and secure software that we can all leverage to build value. It is refreshing to see a company not just embrace open-source as Incursus has, but to weave it into their cultural DNA like this."
"So far the reaction has been incredibly positive", says Burkett. "Our folks are really keen on the idea, and have come up with quite a few interesting ideas, some big in scope, some small. It seems to play perfectly with our slogan - We Create Thingz. It's a great mechanism for allowing us to collaborate with each other, push our limits, and stretch our creative legs above and beyond the work we do for our clients."
The company intends on publishing a collection of these open source projects on their official web site, and will be hosting all code repositories on GitHub.com.